ReqIt - Product Design
Ever went to a bar or venue, saw a live band, wanted to tip them but realized you had no cash on you? ReqIt is the solution to that problem.
Download ReqIt 👇🏾
About the app
ReqIt allows users to find different bands playing at various venues and to tip the bands through the app. Users can also request songs from the band too - maybe throw a little 💰their way to make sure their request is played. Bands sign into the app and are able to accept tips through their band page. This requires bands to have the app if they want to receive virtual tips, which is an incentive for them to push the app to their listeners.
My role
I worked closely with a team in Nashville called FortyAU as the lead designer for ReqIt. I was involved from the early stages of the project - going from ideation to implementation. I helped to create user flows, visual designs and interactive prototypes. I was asked to bring an overall modern design that would be easy for users and bands to pickup quickly.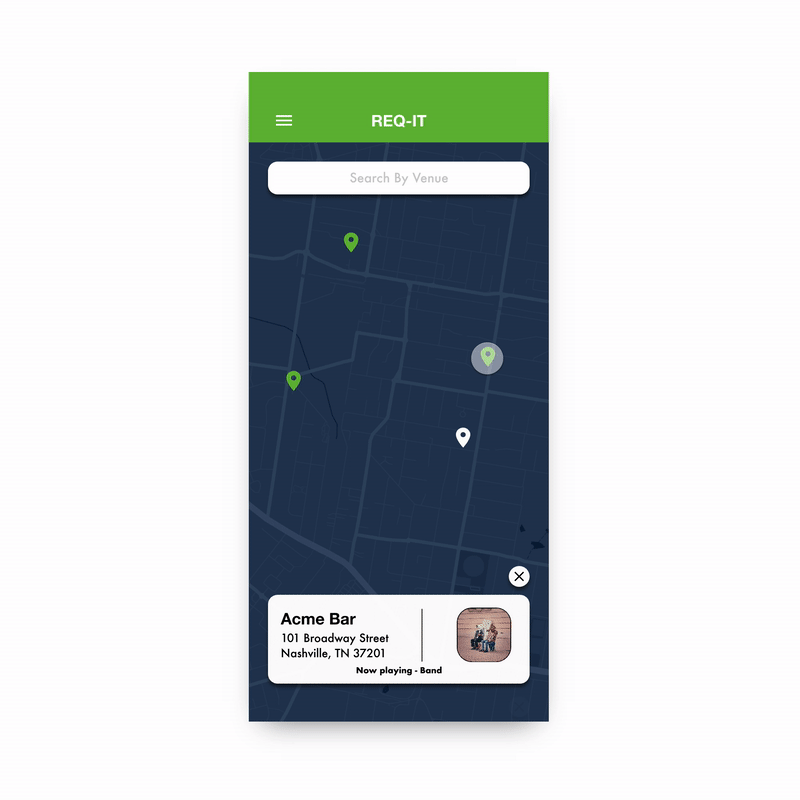 The map view allows users to see where they currently are, to see other nearby venues that may have bands playing and for them to be able to select a venue to be able to tip bands at that venue. The map will display different location icons, which indicate that a band is playing currently at the venue. Each location icon includes the name of the venue, the venue address and which band is currently playing at the venue.
The venue screen opens up after the user has selected their venue. It brings up a simple screen that shows which band is currently playing - the user is also able to swipe to see previous bands. The idea is to allow users to tip the current band, but if they wanted to tip a band that played previously, they are able to go back and tip that band.
The objective of the tip screen is to allow the user to swipe through the different money bags 💰as a way of selecting their tip amount. I wanted to use something that would be easy to understand, but also would be quick for the user to pick up on. You have to remember, a number of users on the app may be a bit intoxicated (given that most venues have alcohol involved), so I wanted even the most inebriated users to still be able to use the tip feature seamlessly.